If you are sick and tired of carrying the key of your house around and trying to remember where you put it, then fingerprint door lock is for you. It has superior technology and you won't regret buying it. These are 10 best fingerprint door locks based on our fingerprint door lock reviews.
Fingerprint & Push Pull Innovation SAMSUNG SHS-P910 digital door lock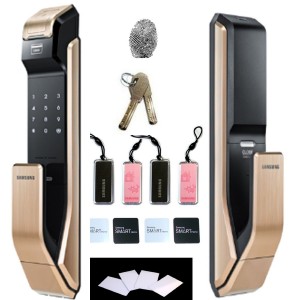 This Samsung lock is the best you can find and you will be more than satisfied. It is touch screen based, dually way security through magic number and several ways to access, such as password, key tag, credit card, remote and few other ways. This door lock brings us Push and Pull innovation and fingerprint verification technology. They have automatic lock feature, so you won't have to worry about forgetting to lock the door, since they will automatically lock as soon as it is closed.
Digital Door Lock Korea Keyless FingerPrint Epic EF-8000LR Black

Korea keyless fingerprint door lock has multiple authentication feature and also anti shock, anti fire and anti hacking system. The great innovation is remote control option, so you can open the door remotely. If it happens that the door lock is not working or if the battery is dead you can always use the mechanical key. This strong sturdy lock will last you a long time, and durable body components will keep your home safe.
LineMak Fingerprint reader

One of the best door locks on the market is without doubt LineMak fingerprint reader that has facial identification too. It is very fast and accurate and it can storage 1500 different faces and 2000 fingerprints. It is very easy to install and connect, and as for the settings goes, you will learn that quickly. It works in the dark as well, it has infra red optical system that enables this lock to work at night as well.
iTouchless Bio-Matic Fingerprint Door Lock For Right Hand Door

The one thing that makes this model stand out is that it can support 150 fingerprint users and 78 pass code users. You will get 2 backup keys and low battery power waning alter. Sliding cover will protect UV sensor, so you won't have to worry about that. It is powered with 4 AA batteries and that is more than enough for about 15,000 usages.
SAMSUNG EXON Fingerprint Digital Door Lock SHS-5230

With sleek and stylish design, Samsung Exon will fit perfectly with your home decor and stay there for a long time. You can delete fingerprints, and also combine pin with fingerprint to access. It has heavy duty fingerprint sensor that uses white light technology. But, be careful, customer support for this unit is not so good, and since customers complained about life span of this unit, be careful.
Assa Abloy Digi Electronic Biometric Fingerprint

Assa has pretty great models, and on the list of 10 best fingerprint door locks is Assa Abloy Digi Electronic Biometric Fingerprint + Keypad Door Lock. It has 100 fingerprint different fingerprint capacity and 78 pass code users, so it is perfect for office. There are also 2 backup keys and sliding cover to protect UV sensor, which is water resistant. Made of stainless still, it will last you for a long time.
Adel Keyless Biometric Fingerprint Passcode Door Lock Trinity 788

This model has up to 99 fingerprints capacity, and that is great if you have business or you want to share it with the guests in your home. It has reversible handle that can fit in both right and left handed door. You can unlock it with pass code, key or fingerprint and it fill fir most cylindrical locksets. To power this lock use four AA batteries and it has low voltage warning. One year limited warranty will prove you that you bought a really nice door lock.
SAMSUNG SHS-2920 Keyless Door Lock with Touchpad

This is super safe door lock with plenty of new and different features. It is safe from electric shocks and it also has fire detection sensor mounted. Crime setting feature is a special option that will prevent intrusion if you are not at home, and it will feature sound alarm if the lock is operated inside your home. There is also automatic lock feature that will lock the door as soon as it is closed, so you don't have to worry about forgetting to lock the door.
Biometric Fingerprint Door Lock "Aegis"

This is a fine door lock that unlocks with fingerprint, mechanical key or key code. It is also modified to accommodate OBDII card and it can be only installed on right hand open door. It also has deadbolt lock for double security, so you know you are more than safe with this lock.
Adel Ls9 Biometric Fingerprint Password Door Lock Left/right Handle Keyless Waterproof

This door lock is realy state of the art and it is suitable for both left and right opening doors. It has three different ways to unlock, fingerprint, password and mechanical key, so if you have gloves, you can always use the old fashioned way. It goes on batteries and when they are used out, you can connect external adaptor and use it to charge the lock. Very easy to install, this unit is perfect for schools, banks, or common household.
More on
Push Pull inovation
Home safety isn't a joke, so it is very important to find a proper door lock for your household. Any of these 10 best fingerprint door locks will do an excellent job, if you are a person who doesn't like to drag keys anywhere you go. So, with this door locks you will get security with the benefit of not having to worry about the keys.